Start Date: August 26, 2023
Duration: 6 Days
Total Miles: 225
Pricing:  $1,999/pp/double occupancy
Sign up Deadline: July 15, 2023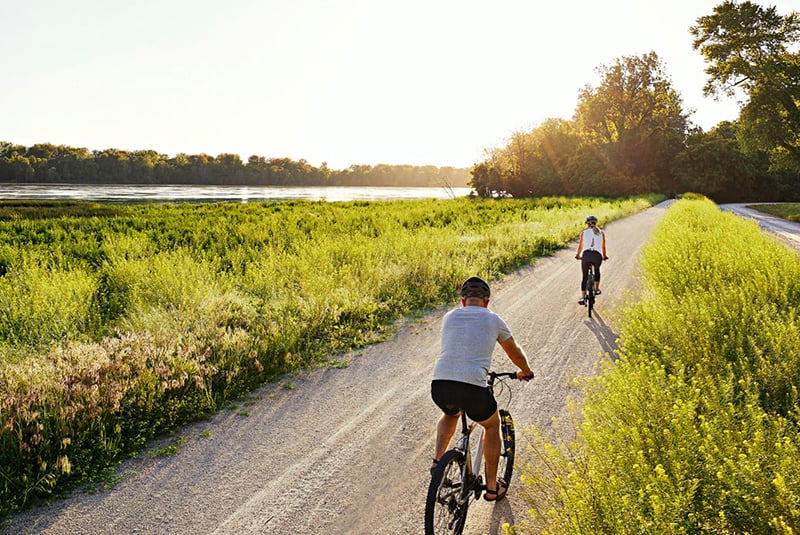 egistration is open!
Come to the Katy Trail!
Let us show you what the Show Me State has to offer, with 225 miles of riding along the beautiful Katy Trail from Sedalia to St. Charles. This famous crushed limestone bike trail is about 97% traffic-free, and perfect for gravel bikes and touring bikes with a little wider tire. We've done this tour before, and our Tour Guide Fred even grew up in Missouri.
Cool Towns & Good Food
We've planned overnight stops with lodging included at quaint hotels in Sedalia, Booneville, Jefferson City, Hermann, and Washington. Tour dining includes breakfast Sunday-Friday, lunch on two days, plus dinner on Sunday and Thursday. There's also a guest reception including some of Tour Chief Jim's best homemade cheese!
These river towns also offer wonderful dining options for you at night, and there's a vibrant scene for those who want to wet their whistle at a local brew pub, winery, or distillery along the way.
We'll support you along the way with our sag service including water, ice, fruit, snacks, first aid, and minor repairs.
Point B to Point A to Point B!
Logistics of this tour include your arrival in St. Charles (our ending point) on Saturday, August 20 to check in at our tour hotel and prepare for the 8 a.m. Sunday shuttle ride to Clinton. We'll load your bike & luggage, and provide a motor coach lift to the start of the trail about 3 hours away in Clinton.
E-Bikes Welcome
Bring your E-bike, or rent one of ours. Limited selection available, please contact us for details.
Registration is quick and easy. Just register at the PayPal link below! We'll invoice you for half the balance due in 30 days, and the final payment due by June 30. Solo guests in a private room are just $2,399.00 for 7 days & 6 nights of fun. Two guests in a shared room are only $1,999.00 per person, for a total of $3,998.00. Register today!
We'll invoice you for half the balance due May 30, the remainder due June 30.
ORGANIZER
Jim
jim@biketourvacations.com
VENUE
St. Charles, MO