Date: May 18-19, 2024
Duration: 2 Days
Pricing: $129.00 per person
Sign up Deadline: May 1, 2024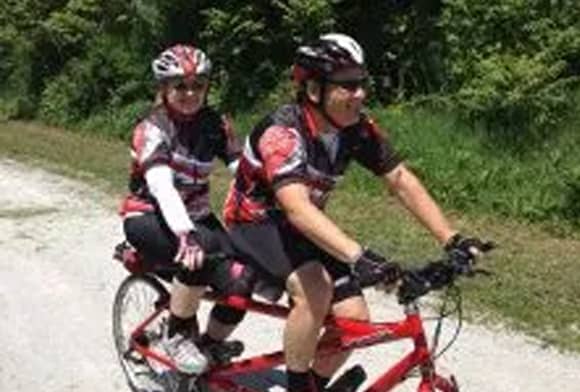 Registration is open for 2024!




Start your 2024 Ride Season with us on the Kal-Haven Trail Tour! Come out for the fun and make some new friends. You get two great days of riding, plus lunch on Saturday and Sunday, and the option to pick lodging which fits your budget.
The History
The Kal-Haven Trail is one of the oldest rail-trails in Michigan, 33 miles out Saturday, and 33 miles back on Sunday. This is our 12th tour on the trail since 2011, and each time we learn something new and have a lot of fun. If you select this 33 mile distance, please be at the trail head by 9 a.m. for a 9:30 a.m. start. The crushed limestone trail winds west to South Haven, passing through Kendall and Gobels. There's a great lunch stop for you in Bloomingdale, and then on to Lake Michigan!
Renewed for 2024
The Kal-Haven Trail is closed for group rides in 2023 due to reconstruction from Bloomingdale to South Haven. We can be back in 2024.
Super-size your tour with the option to say Friday at the Hilton Garden Inn, our downtown hotel in Kalamazoo. We have a rooming block set up for you. This provides you the relaxation of being in Kalamazoo the night before the tour begins. In addition, you'll enjoy an extra 5+ miles of paved trail from downtown to the trailhead. Safe parking is available at the hotel, or if you prefer, out at the trail head.
Early or Mid-Morning Start Time
Friday overnight guests starting from the hotel need their luggage loaded in our sag wagon by 8:30 a.m. Guests arriving at the trail head on Saturday need to be present by 9:15 for the 9:30 start time. We need to say it again: Friday guests, load luggage by 8:30 a.m. and begin the 5-mile ride on the Kalamazoo River Valley Trail to the Kal-Haven Trail head; guests arriving Saturday come to the Kalamazoo trail head by 9:15 a.m., and enjoy 33 miles on the traffic-free crushed limestone trail all the way to South Haven.
We have a lunch stop planned in Bloomingdale, plus sag wagon support along the way. Once you get to South Haven, you'll find many interesting shops plus a few museums. Add in the wine-tasting rooms and a brew pub, and it's a super day!
There's Great Value in your Tour Ticket
We haul your luggage, have a sag wagon with water, fruit & snacks, plus lunch on Saturday & Sunday. We've priced this tour with overnight lodging optional, as many of our guests prefer to book their own room, stay with friends, or have arrangements for camping.
Extra Bonus!
Thinking of going over Friday? We'll send you a list of Kalamazoo area hotels, suggested self-guided bike routes for Friday afternoon, and hints about a few good brew pubs.
Reserve your space today by clicking here and put Kal-Haven Tour in the message. We'll add you to our grand return tour list for May 2024!.
ORGANIZER
Jim
jim@biketourvacations.com
VENUE
Kal Haven Trailhead
4143 10th St. N.
Kalamazoo, MI 49009 United States