Start Date: September 10, 2023
Duration: 7 Days, 6 Nights
Total Miles: 200
Pricing: Only $1450.00 per person, double occupancy
Sign up Deadline: August 1, 2023
LIMITED SPACE, 12 Guests Maximum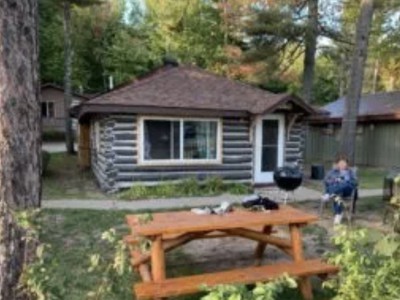 New for 2023: The Hiawatha Forest Gravel Adventure Tour — Refined
Gravel bikes give you freedom to escape the traffic on paved roads, to venture into wilderness, and to experience some adventure! We're providing our full tour support for 6 days of riding on US Forest Service roads and trails in the Hiawatha National Forest in the eastern Upper Peninsula.
As you've come to expect from our other tours, we include mapping, staff and sag support, plus dining and lodging as outlined on the tour itinerary.
This tour is 7 days and 6 nights long starting with your arrival on the afternoon of Sunday, September 10, and ending on Saturday, September 16 about noon.
Why the Hiawatha National Forest?
This part of the Upper Peninsula is really our wheelhouse and home away from home! We've developed great friends in the area, including innkeepers, restauranteurs, and grocers, all part of our support network. Then consider the area: we give you Lake Michigan at the start and finish, and two nights at AuTrain on Lake Superior. All this with the protected lands of the Hiawatha National Forest in between! There's rugged wilderness beauty including grand vistas, hidden forest lakes and streams, and bicycling on quiet moss-lined roads and sunny gravel roads.
Know before you go
This tour focuses on gravel and paved forest service roads, and there is opportunity for off-road riding on other paths. We expect about 67% of our 182 miles riding to be on gravel, and 33% on pavement. Our staff has ridden much of this on bicycles with tire sizes including 700 x 35, 38, and 42C. Our routes have been vetted on gravel roads which will allow our sag vehicles to pass. We've engineered as much gravel in as is practical and avoided any ORV trails.
Riders with proper wheels and strength may wish to try some of the ORV trails, and we have optional loops on Bruno's Run, a woodland foot path, and in the Valley Spur mountain bike trails. We truly hit only a small portion of the gravel in this area, so there is ample opportunity for 'extra credit' enjoyment!
Bring the proper bike for your tour. Gravel and endurance bikes, mountain bikes, and even fat-tire bikes are good. Skinny-tire Road bikes will be at a disadvantage, as would recumbent trikes. Also, E-bikes are welcome but are restricted from certain paths in the National Forest. Generally speaking, e-bikes may go anywhere a gas-powered vehicle goes. Bruno's Run and Valley Spur prohibit e-bikes.
This is an Adventure Tour!
New for this tour, we're definitely off the grid for most of the tour. There are no restaurants in our tour area, and we have several new resort lodging partners for housing. We have full cooking facilities on 5 of our 6 nights on this tour, and a staff cook will strive to meet your dietary needs. We try to keep as close to motel lodging as possible- one bathroom per bedroom- and this may not be the case every night. There might be a shared-bath situation on several nights on the tour. If you register as a solo guest in a private room, that will be provided, however you may be sharing a bathroom in a small cabin. We take necessary precautions to protect your safety on this tour; it's likely that solo female travelers will be housed together. I encourage you to look at our lodging partners: Gray Wolf Lodge in Manistique, White Fawn Lodge in Wetmore, Northwoods Resort in AuTrain, and Burson's Delta Resort in Wetmore.
Guest Health and Safety
All our tours will operate using our updated Pandemic Safety Plan. We wrote this plan for the 2020 season and it was integral to our tours. Our goal is to provide a safe tour experience for our guests, our staff, and all our lodging and dining partners along the route. New for 2023, we're asking guests to confirm they are fully vaccinated against Covid-19.
Space is limited, register today
Sign up for seven days/six nights of fun! Use the PayPal link below to make your deposit. Solo guests in a private room are just $1,800.00 for 7 days & 6 nights of adventure. Two guests in a shared room are only $1,450.00 each ($2,900.00 total). 
Make your deposit below and we'll invoice you for half the balance due June 30, and final payment due July 30.