Start Date: Saturday, July 22, 2023
Duration: 7 Days
Total Miles: 250-300
Pricing: $1699.00 pp, double occupancy
Sign up Deadline: June 30, 2023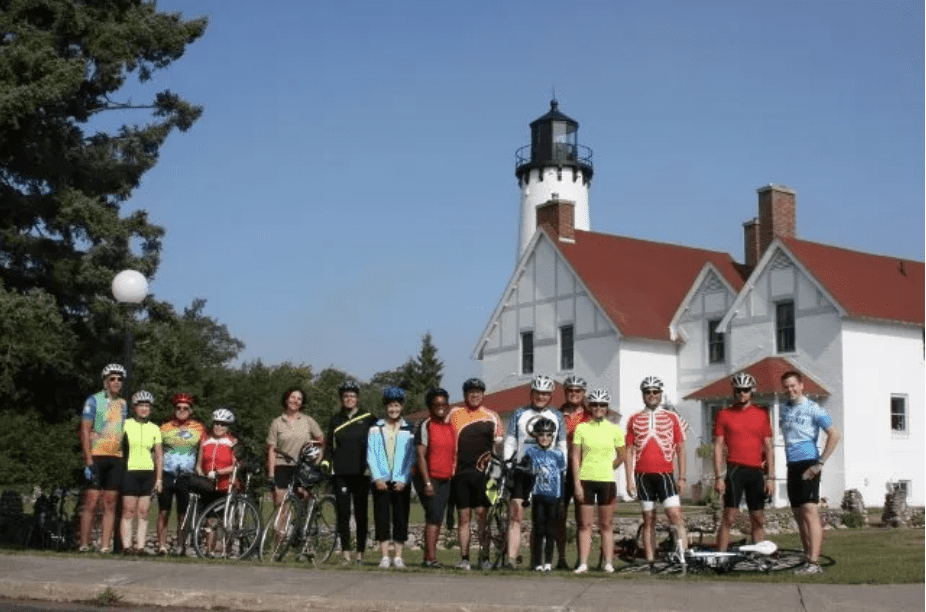 Our longest tour for the summer!
We love this tour so much that we had to add an extra day! This 300 mile loop earns the name Great Waters because it takes us to the shores of three Great Lakes–Huron, Superior, and Michigan. You enjoy every shade of blue that Michigan's UP has to offer while also seeing some man-made engineering marvels such as the Mackinac Bridge, the Neebish Cut, and the Soo Locks. This weeklong bike tour vacation takes us from St. Ignace to the Soo, over to Paradise, Curtis, and back to St. Ignace. You can't miss it! 
Guest Health and Safety
All our 2023 tours will operate using the company Safety Plan. We wrote this plan for the 2020 season, and it was integral to our tours. Our goal is to provide a safe tour experience for our guests, our staff, and all our lodging and dining partners along the route.
Great Lakes Stuff for 2023
Our tour kicks off in St. Ignace. This little town has so much to enjoy, it could be its own mini vacation: music and movies by the bay, shopping, maybe a quick ferry ride to historic Mackinac Island, and restaurants. Get your bike tour vacation started off right by arriving in St. Ignace a day early. 
Let's Hit the Road!
After a full day of leisure in St. Ignace on Saturday, we'll gear up and take to the roads on Sunday. Our itinerary is packed full, beginning with a ride to Cedarville. Once we're here, you'll have the option to take to the waters and kayak in the beautiful Les Cheneaux Islands. Monday's ride takes us north to where Michigan was born– Sault Ste. Marie. Here's we'll get to see the famous Soo Locks.
Layover Day in Paradise
On Tuesday, we ride west along the shores of Whitefish Bay to Paradise, where we'll enjoy two nights and some sightseeing. Wednesday is our layover day with the option to bike to Whitefish Point and visit the Great Lakes Shipwreck Museum and spend your afternoon at the famous Tahquamenon Falls. Give your legs a break from the bike by hitting the trails between the upper and lower falls. 
Enjoy Our Favorite Dinner Tour Stop
Thursday's ride brings us to Curtis for a night at Chamberlin's Ole Forest Inn–our favorite stop. This historic building is one of the highlights of the trip with its lakeside views, delicious food, cold beer on tap, and live music. 
Friday, we head back to St. Ignace to round out our trip. 
How it Breaks Down:
If you're feeling overwhelmed by the thought of biking 300 miles–don't be! It's broken down into manageable legs! In addition to our daily itinerary, you'll have daily printed maps & cue sheets, plus electronic maps from Ride with GPS, to run on your smartphone or bike computer.
What's Special
You really can't beat the views of the Great Lakes. This trip is a perfect balance between seeing the beauty of nature, and being in awe at the resiliency of human engineering to figure out life on the lakes. The gorgeous scenery of the summertime UP is reason alone to book this trip. Fresh water, fresh air, and fresh memories–this bike vacation has everything. 
Registration is Easy at the PayPal link below!
Please click on the PayPal link below and make your selection of either a solo guest in a private room ($99 deposit, $2,049.00 total tour fee) or two guests in a shared room ($100 deposit, $3,198.00 total tour fee for 2 guests). We'll invoice you for half the balance due in 30 days, and the remainder due May 31. Come along, it will be fun!
Reserve your spot on this tour for seven days/six nights of fun today! 
ORGANIZER
Jim
jim@biketourvacations.com