Date: June 9-11, 2023
Duration: 3 Days
Pricing: $399.00 per person
Sign up Deadline: April 15, 2023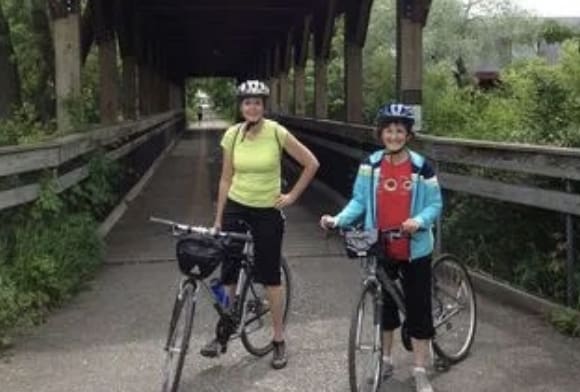 Registration is open!
Enjoy an exciting June weekend with a tour on the White Pine Trail. This wonderful trail runs from Cadillac all the way to Grand Rapids, and we've got a fun tour planned for you.
Arrive at Comstock Park on Friday afternoon and enjoy a self-guided tour showcasing bike infrastructure in Grand Rapids. Our staff will greet you after 4 p.m. at our host hotel, the Tru Hotel in Comstock Park. Your bikes will be loaded securely and locked into our moving truck on Friday night. We'll all depart via motor coach at 8 a.m. Saturday for the ride to Cadillac.
You'll begin riding south about 10 a.m., for the 41-mile ride to Big Rapids. The ride Saturday is 100% on paved trail! We'll have your bags unloaded at the hotel, ready for when you get to Big Rapids for the overnight stop.
Big Rapids is a nice college town, home to Ferris State University. There are many good restaurants and a brewpub for you to enjoy.
Sunday we complete the trail with return to Grand Rapids. It's about 50 miles from Big Rapids to Grand Rapids.
The trail surface Sunday includes 29 miles of crushed limestone & cinder from Big Rapids to Sand Lake, and then 21 miles paved back to the trail head in Comstock Park. We've ridden on all the unpaved sections to be sure they meet our standards, and have optional routing around this, if desired.
There's great value in your tour ticket!
The Tour Fee is $399.00 per person, double occupancy. Solo guests in a private room, only $598.00. Your ticket gets you some great benefits: Two nights of lodging, parking through Sunday afternoon, transport to Cadillac for you and your bike. We'll also carry your luggage to our host the Quality Inn of Big Rapids, and back to Comstock Park Sunday. We have lunch Saturday & Sunday planned for you; and mapping & sag service along the route.
Special bonus for you, we have maps for a self-guided ride around Grand Rapids on Friday!
Registration
Online registration is open once we know you're interested! Join this tour, 2 guests in a shared room for only $798.00; Solo guests in a private room just $598.00.
Just click the PayPal link below and select solo guest or 2 guests in a shared room. It's easy and fun!
ORGANIZER
Jim
jim@biketourvacations.com
VENUE
Tru Hotel
340 Dodge Road N.E.
Comstock Park, MI 49321