Start Date: June 4, 2023
Duration: 6 Days
Total Miles: 200
Pricing: $999.00 pp, double occupancy
Sign up Deadline: March 18, 2023
on the mississippi BIKE TOUR
Rent a Pedego E-bike from us for only $300 per bike, limited supply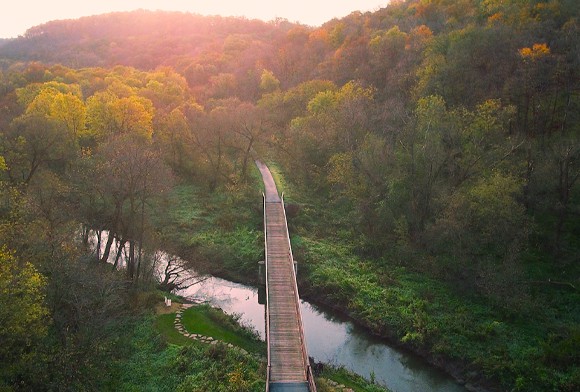 The River Towns Tour, great fun along the Mississippi River!
The Mississippi River is the great divide between Wisconsin and Minnesota; it's inspired music, literature, and one of the most heated football rivalries to date. Come see the beautiful bluffs created by the great Old Man River on this 200-mile linear bike tour vacation. Each side of the river offers something to cyclists, so come along and see what makes it fun as we bicycle along the Mississippi River. We'll explore this border on both sides of the river, with most of our riding in Wisconsin, and most of the lodging in Minnesota. From Hastings to Red Wing, along Lake Pepin, through Wabasha and Winona and Lacrosse, you'll enjoy everything about this trip.
Our Route
The tour starts with your arrival on Sunday afternoon in Hastings, MN. On Monday we'll head south and west to Cannon Falls, and then take the scenic Cannon River Trail into Red Wing, a historic river town. Over half our riding today is traffic-free on the Cannon River Trail!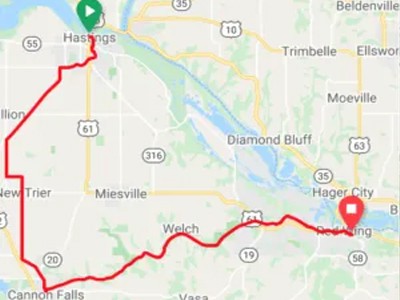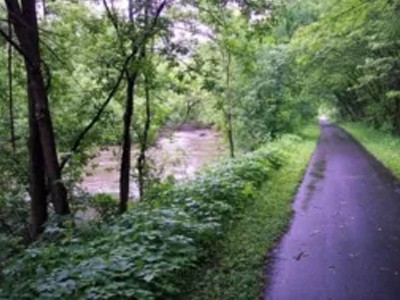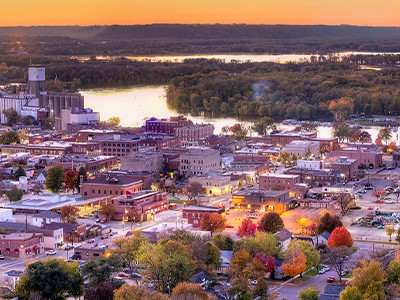 Tuesday gear up for a great cycling day along the Mississippi River! We'll cross over the river and into Wisconsin to ride south along Highway 35 through Maiden Rock on the east side of Lake Pepin, before ending our day in Wabasha.
On Wednesday head back into Wisconsin for even more fun as you work your way south to Winona.
One surprise for Thursday as we cross back into Wisconsin: Most of our riding today is along the Great River State Park Trail, to change things up from Highway 35. Lacrosse is a great town for our last night out, with a special tour dinner planned.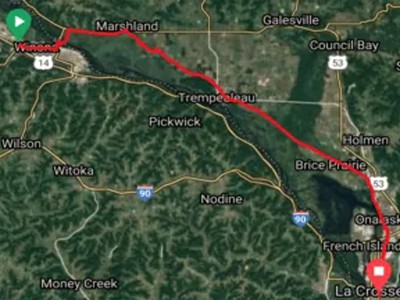 The route from Winona to La Crosse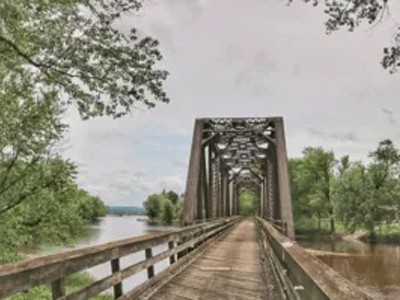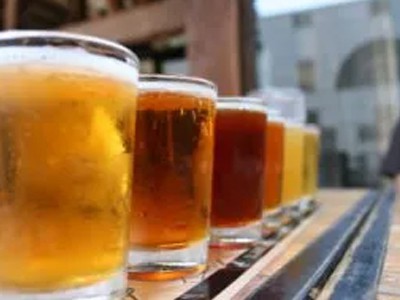 Artisan beer is available
Friday, cross back into Minnesota and head south. Have you been to Iowa? Want to scratch Iowa off your US state scratch map? Here's your opportunity to cross the border into New Albin, Iowa. Our motor coach will pick you up at noon at the High Chapparal Restaurant for the return trip to Hastings. Over-achievers might even get a 50-mile day by adding a 20-mile loop to Lansing and back.
To help keep you on track we have a daily itinerary. You'll have daily printed maps & cue sheets, plus electronic maps from Ride with GPS, to run on your smartphone or bike computer.
The Dining
We include breakfast Monday-Friday, and group dinners on Sunday, Tuesday, and Thursday. Our sag wagons are stocked with water, ice, fruit, some salty crunchy things, and PB&J. You're welcome to enjoy these items any time you see a sag wagon. Lunch is available from local cafes and shops
What's Special
There are a few stand-out features on this tour: Convenient starting point just minutes from Minneapolis; Wonderful cycling in rural Wisconsin and Minnesota along the Mississippi River; Return motor coach trip from New Albin to Hastings included! Tour pricing includes lodging Sunday-Thursday, breakfast Monday-Friday, 3 dinners, staff & sag support, mapping and logistics, and motor coach return to Hastings.
Bike Rental: We've found some great e-bike rentals for you, available at Pedego Twin Cities. Their rental fleet incorporates bikes that have throttle in addition to pedal assist and will travel at speeds up to 20 MPH. Please check out the Pedego bike designated for this event at this link. Bikes can be reserved by calling Pedego Twin Cities at (612) 827-5000. Reserved bikes will be delivered to Hastings on Sunday and picked up at the end of the ride by Pedego Twin Cities.
iowa special: join this tour for only $999/per person, double occupancy!
Please join our tour on June 4-9, 2023 by registering below
Sign up for seven days/six nights of fun for only $1,350.00, one guest in a private room; or bring a friend to share your room, two people/two beds, one room, $999.00 each ($1,998.00 total). Just complete your registration at the PayPal bug below. We'll send an invoice to you for the balance which is due April 30.
Note: This special pricing offer is available only if your deposit is made by March 18, 2023
ORGANIZER
Jim
jim@biketourvacations.com